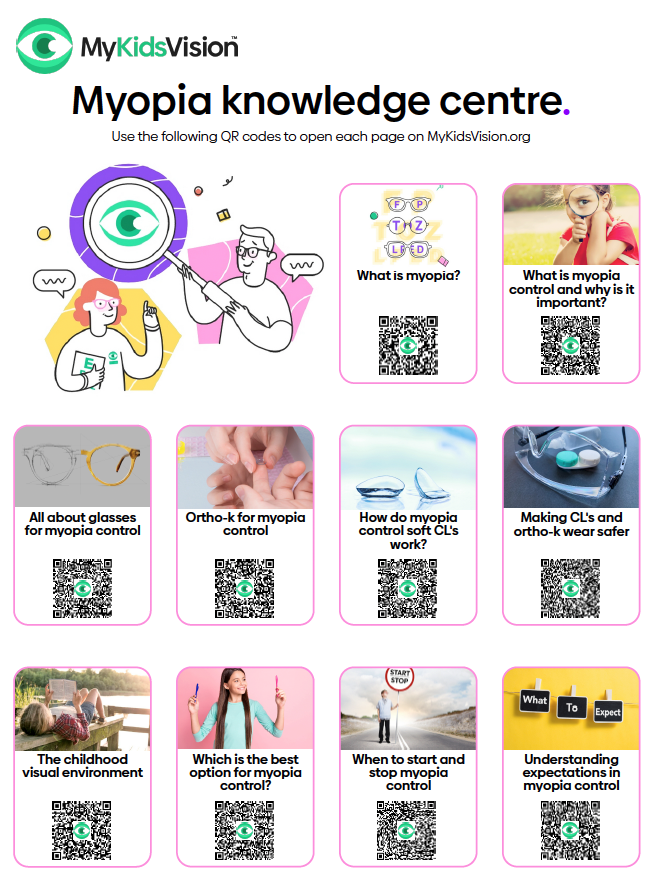 My Kids Vision QR code sheet
Connect parents easily with the information they need most to learn about their child's myopia with this QR code sheet. This colourful, engaging single sheet can be downloaded and printed as a reference to use in your consulting room. Key articles from MyKidsVision.org are linked with unique QR codes to support your clinical communication.
Description
MyKidsVision.org is the go-to patient and parent resource offering scientifically based and balanced information on myopia. Eye care practitioners around the world harness MyKidsVision.org to streamline their clinical communication on myopia, saving time while ensuring parents can have all of their questions answered.
How to Use
We suggest you print this sheet on thick paper or card, to use as an ongoing reference. Keep it in a visible position in your consulting room, and use when having discussions with parents and patients about childhood myopia management. They can hover their mobile device camera over the individual QR codes to directly open specific articles on MyKidsVision.org.
Printing
US Letter and A4 size options are available to allow easy printing using a personal or office printer.
Copyright
Copyright © Myopia Profile all rights reserved.