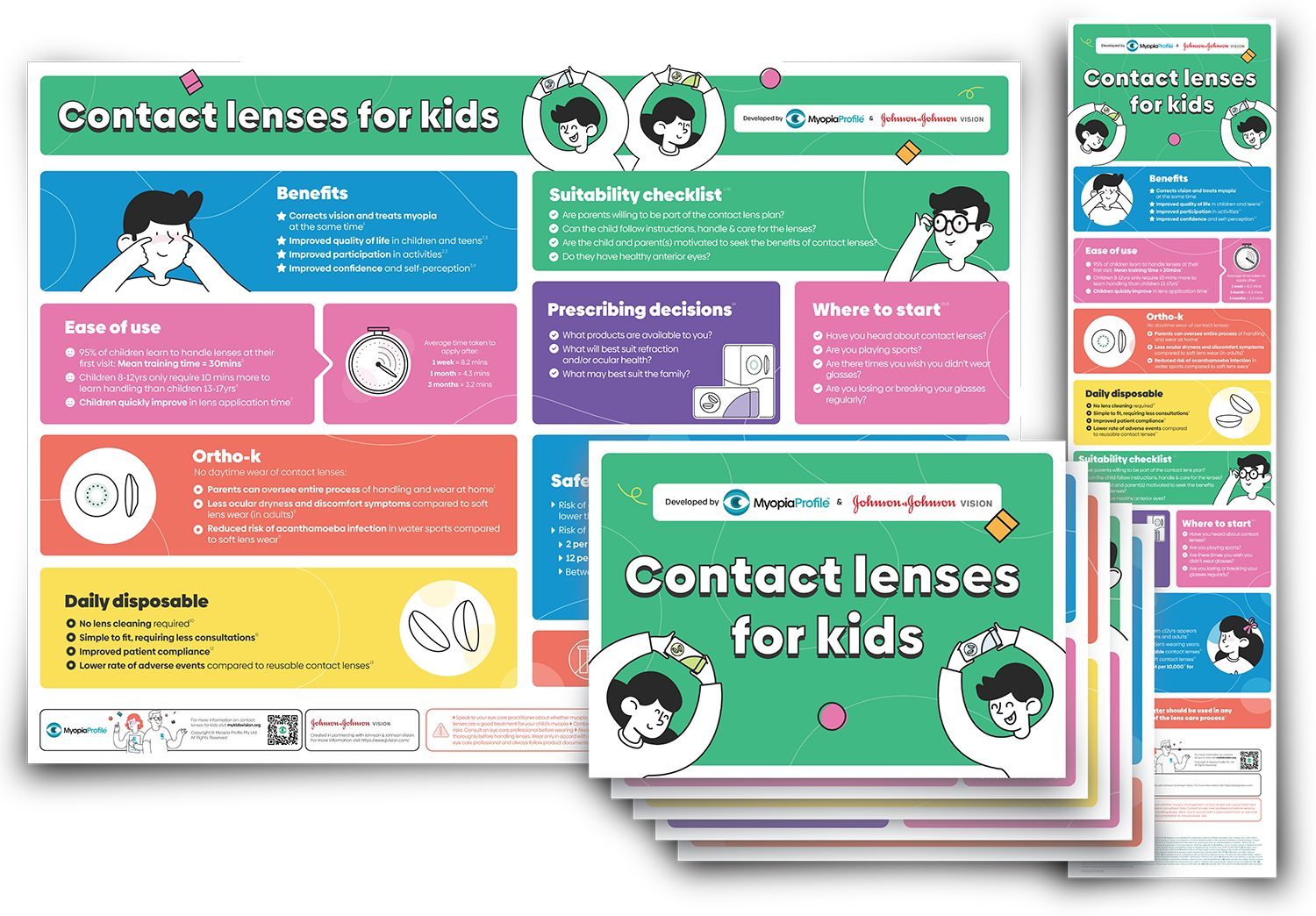 Contact Lenses for Kids Infographic
A colourful, easy-to-follow infographic which addresses questions that parents, patients and practice teams may have about contact lens wear in children. Available to download and print in numerous formats and sizes: as a booklet, or two different high-resolution poster sizes, with US and International sizing.
This infographic is FREE to download, and has been created in collaboration with Johnson & Johnson Vision.
Description
The Contact Lenses for Kids Infographic guides eye care professionals, practice staff, parents and patients through key facts on contact lens wear in children. It can be printed in various formats to best suit your practice and intended location of use. It is visually appealing, guides the reader and is supported by numerous scientific references to distil the evidence into clinically actionable items. It is currently available in English language only.


Johnson & Johnson Vision is known for leading with science, and Myopia Profile is known for translating science into practice. Our collaboration on this infographic brings these values together to support eye care professionals to confidently fit and manage more kids with contact lenses.
How to Use
Print the high-resolution infographic in your desired size and format to utilize in your practice. The guided format can be utilized by eye care professionals and practice staff, and also printed for parents and patients to read in their own time. Here are some suggested ways you could use this infographic.
As a printed poster in your waiting room or dispensary
As a booklet in a pre-testing or waiting room
As a guided communication tool in the consultation room, as a hand-held booklet or wall poster.
Printing
Formats include US and International sizing. These are:
Booklet (6 pages) in US Letter or A4 Sizes
Poster in large format US and International Sizes
Tall poster in custom print size
Copyright
Copyright is restricted to personal or individual practice use only. i.e. you as an individual can print and use yourself in multiple practices or if you own a practice the infographic can be printed and used by anyone within that practice. Printing for use across multiple practices by different people, group practices or buying groups is not permitted and is protected by copyright. If you require use outside of this restriction, please contact us at support@myopiaprofile.com.